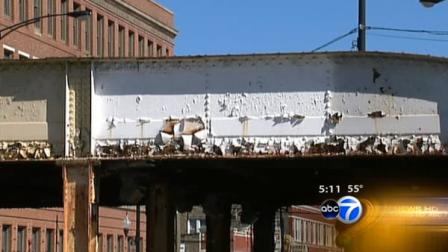 As a follow-up to my blog post dated October 4, 2010 regarding the Ravenswood Metra station renovations, the Chicago Tribune reported on October 21, 2010 that Metra may start over with its plan to renovate 22 bridges along the Union Pacific North Line which affects the Chicago north side neighborhoods Andersonville, Ravenswood, North Center, and Lincoln Square.      
Metra is trying to figure out a way to reduce the estimated $80 million cost projections for new retaining walls by considering re-bidding the contract it already awarded.   Metra had planned to rebuild the retaining walls that hold up the embanked train tracks on Chicago's north side which affect the Lawrence Avenue stop in the Ravenswood neighborhood.  
Metra is also asking the engineers to reconsider how to keep two tracks operational during the bridge reconstruction improvements.   This was a bone of contention when they originally began the project. Metra received many complaints of long delays when they went to one track operation.   The project has been delayed until spring as Metra tries to figure out cost reduction options.
For now, Andersonville, Ravenswood, North Center, and Lincoln Square residents can enjoy the normal Metra train schedules and no disruption to street traffic while the project has been put on hold.
Ann Marie Walker, ABR, Move with Maggie Real Estate Team