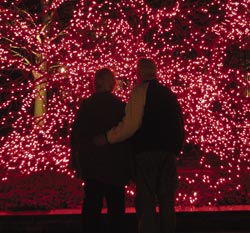 We just returned from the Chicago Botanic Garden, where we strolled thru the Wonderland Express.   The eco friendly indoor exhibition artfully combines Chicago history, architecture, miniature trains and nature into a captivating, 10,000 square foot exhibit.   It features miniature trains winding over bridges, under trestles, past waterfalls, and through more than 80 mini-replicas of Chicago's favorite landmarks. Paul Busse, designer of the Model Railroad Garden, created this amazing exhibition exclusively for the Garden's holiday celebration.
I loved identifying my favorite Chicago landmarks and amusements, and can see how the exhibition has something for everyone. We were fascinated by the realistic miniature buildings, artistically constructed of bark, seed pods, pine cones, moss and other natural materials, and surrounded by living greenery, red poinsettias and berries.   It was fun to watch children of all ages fixated on the many trains that ran behind waterfalls and over railroad bridges and trestles made of willow twigs.
A few of our favorites are the replica of the Obama home in Hyde Park, Michele Obama's family bungalow, the Robie House, Rockefeller center, and the South Shore Community Center.   And there's the Navy Pier Ferris wheel, constructed of twigs, walnut shells and acorn tops.   Don't miss the mini Marina Towers, made of large mushroom caps and twigs.   The museum campus includes replicas of the Planetarium, the Museum of Science and Industry and the Field Museum, along with the Art Institute.
While you are on site, plan to stay awhile and visit the three indoor gardens, and if you wait until twilight, you can experience the 750,000 twinkling outdoor lights on the grounds of the garden.   The exhibit closes January 3, 2010 but you can still visit the garden on weekends thru January 31, there is outdoor ice skating on the Esplanade amid the glow of trees strung with thousands of lights. Don't forget your skates!