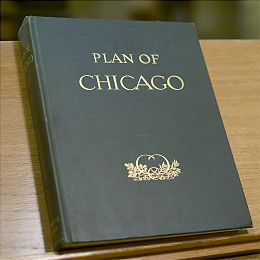 I feel a particular kinship to Daniel Burnham. Yesterday, I went to a screening of the new documentary film, "Make No Little Plans:   Daniel Burnham and the American City" at Chicago's Gene Siskel Film Center. The film will be broadcast on Thursday December 17, at 8:00 pm on WTTW Channel 11. It is a masterpiece of Judith Paine McBrien Director of the Archimedia Workshop, and Associate Producer Mary Morrissette.
Interestingly, I felt particular bond to Burnham after learning about his vision for the lakefront in his "1909 Plan of Chicago." The plan is considered a landmark in urban planning history, and is still viable today not to metion timely as we get back to the earth, ecology and environment.
Burnham's perspective was to recognize the City as an organic whole interconnected and interrelated to its region. It encompassed a 60 mile radius that included 3 states and Lake Michigan.   As an Edgewater resident who lives just minutes from the lakefront, I truly appreciate the way the plan "reserved the lakefront as public space," one of Burnham's major concerns and one of his plan's most notable accomplishments.
Reserving the lakefront as public space was a bold statement to make, at a time when much of the lakefront was either private land, owned by railroads or being used by industry. Burnham was an urban planner before the profession of urban planning existed, and inspired the City Beautiful Movement. Burham's letters, papers and drawings are in the collection of the Art Institute of Chicago.
Another interesting connection for me is Burnham's roots in the Swedenbourgian community. Burnham's family moved to Chicago in 1855, and I learned, Burnham was a Swedenbourgian. The Swedenbourgs were a Christian religious group who disagreed with church hierarchy and stressed being of service to others.   The Swedenbourgian's local community was and is still located in Glenview, just a few blocks from where I grew up.
As children we used to cut through the area and of course had all of our made up silly stories about it.   I had the pleasure of meeting Burnham's grandniece, Kathy, at the screening. She spoke of memories of living at her grandfather Hugh's home (Hugh was Daniel Burnham's brother), there on Park Lane in Glenview. Sadly it is being torn down in a few weeks.
Makes me want to take a drive by my family's home and then past Hugh Burnham's home. I have a great deal of respect for Daniel Burnham, who is described as a busy man who cared deeply about his friends and family, saw to details, and believed in the power of beauty.
Above image courtesty of Chicago Historical Society.